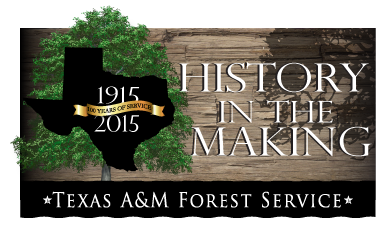 March 16 – November 8, 2015
This year, the Texas A&M Forest Service (TFS) celebrates a century of leadership in protecting and sustaining the state's trees, forests and related natural resources.  The first efforts of a few forest patrolmen on horseback in East Texas have grown into today's network of protection statewide. TFS makes Texas stronger by imparting best land management practices to landowners, grants for training and equipment to fire departments, and information, tools and resources to communities.
"History in the Making: Texas A&M Forest Service" brings to life the people, places and events that shaped the agency over the past 100 years. Walk through the exhibit's forest setting to discover how early patrolmen detected and fought wildfires. Experience the sights and sounds of forests and fires as they did through photos, voices and videos. Discover how the first conservation efforts evolved to today's innovative land management techniques. Learn through interactive displays about wildfire detection and incident response at a state-of-the-art Emergency Operations Center. 
View photos of the exhibit and opening reception https://www.flickr.com/photos/texasforestservice/sets/72157651643596462/
Take a sneak peek at the installation of an oak tree at the center of the exhibit:
 

Created in partnership with the Texas A&M Forest Service, the exhibit is sponsored by the George Bush Presidential Library Foundation, Texas Chapter International Society of Arboriculture, California Casualty, Texas Society of American Foresters, State Farm, VFIS of Texas and FireWatch Texas. The exhibit will be on display at the George Bush Presidential Library and Museum through November 8, 2015.
For tickets and more information visit http://bush41.org/